28 oct.

The Old Man and the sea – Barcelonian legends

Do you know any legend about Barcelona? We would like to let you know one…

Maians was an island of sand in front of Barcelona, some hundred meters from the coastline, that was finally integrated to the city during the construction of the first port in 1477; leading the advance of the coastline.

The eastern dock, built up and based over the island, retained the sands deposited by the marine cycle and also deposited sediments from the Besòs River, which made the shoreline advance to where it is today.

Around of what was once upon a time the Maians Island, the Barceloneta neighborhood was born, and it exist thanks to these terrains taken from the sea.
There is a book by Quim Monzo named after the island disappeared: La Isla de Maians (1986).
According to the Catalan mythology, before the industrialization of Barcelona, ​​an old man used to walk around the Mar Bella beach. Always wearing the same clothes and smelling like the Sea does in summer and winter, he never wore shoes and his white hair and beard were always unkempt.
He never talked to anyone, just walked around the beach sand and greeted everyone with whom he clashed. Although, he often used to talk to the fishermen who formerly lived over the Maians island, currently under the Barceloneta neighborhood, and also helped them drag the boat to the sand when they returned from fishing, demonstrating a quite improper strength for a person of his age.
People did not know where he was coming from, or why every day he walked along the beach, but the few people who spoke, said that he was a very wise and kind man, knowledgeable in all the secrets of the sea as well as the land, and even had the ability to communicate with fish and seagulls.
On the other hand, what few people knew is that at night, when the moon was already up in the sky, the old man jumped into the sea.
Once in the water, the body was covered in silvery fish scales, and his white hair and beard covered up with green algae and shells, and thus swim towards the bottom of the sea never to return until the following day a again in the form of the same old man.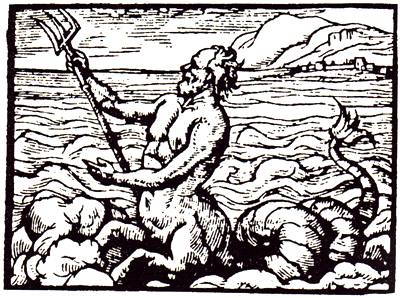 But one day the old man stopped running the beaches of Barcelona. Some people say this was because the mankind walked away from nature with the industrialization, reason why the nature spirits turned their back the same way.
Do you want to know more stories?
Stay tuned… 😉
XOXO